Melamine resin bonded particleboard with melamine resin facing on both faces for damp areas.
High-quality melamine resin direct lamination to both sides
Comprehensive range of decors

Suitable for non load-bearing purposes in damp areas.
Carcass and front quality for furniture making, shopfitting and interior fitting. Particularly for areas with higher demands on moisture resistance i. e. in bathroom furniture.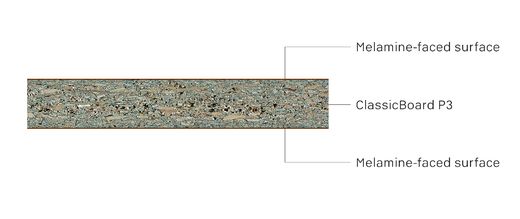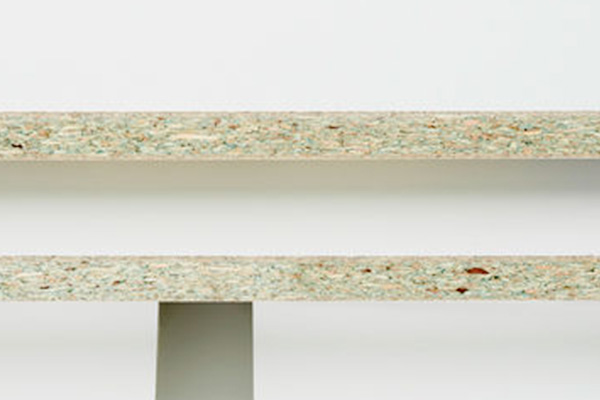 Length (mm)
Width (mm)
Thickness (mm)
Surface Textures
2800
2100
10, 13, 16, 18, 19, 22, 25, 28, 38
Authentic Woodpore
Fine Matt
High Gloss
Linestra
Meandra
Matt Lacquer
Montana
Minipert
Natural Wood
Rustic Wood
Semi Matt
Stucotex
Top Velvet
5600
2100
10, 13, 16, 18, 19, 22, 25, 28, 38
Authentic Woodpore
Fine Matt
Linestra
Matt Lacquer
Montana
Minipert
Natural Wood
Rustic Wood
Semi Matt
Stucotex
Top Velvet
Product standard
Fire behavior
Normally flammable
D-s2,d0 (EN 13501-1, CWFT acc. to 2007/348/EG)
Formaldehyde emission class
Product safety
This product is following the REACH regulation EG 1907/2006 an article. Following Article 7 it needs not to be registered.
The surface is physiologically safe, and approved for direct contact with food acc. to Regulation (EU) No. 10/2011.
Special
Textures LI / ME / ML: The decor program is available on request.
Processing
Can be worked with carbide tipped tools on conventional woodworking machines.
Edging
Thick and thin edges are suitable.
EVA and PUR hotmelts are recommended for edge adhesion.
Fitting technology
All conventional removable and non-removable fittings for solid wood and wood materials are suitable.
Installation and assembly
Sufficient conditioning is required prior to installation and assembly. The premises themselves need to be at the normal climatic conditions in which the material will later be used.
Please ensure that the material is processed and fitted correctly and using the best available technology.
Storage, handling and transport
On level, full area surfaces (e.g. pallets), protected against moisture, in dry, ventilated rooms. Outdoor storage is not suitable.
Please note that incorrect storage, regardless of its duration, may cause irreversible distortion to the sheets.
Foreign bodies or impurities in the pallet of sheets can lead to impressions and damage to the surface of the board.
Ensure that sufficiently large and sturdy bases, e.g. pallets, are used for the transportation of stacked sheets. The sheets on the pallet must be secured against slipping.
Sheets / boards must not be moved against each other; they should be moved individually by hand or with suction equipment.
Health and safety
Please wear the appropriate personal protective equipment (PPE) when processing and handling.
Cleaning and care
The surface can be cleaned with water and gentle cleaning agents.
The use of cleaning products, cloths, sponges with abrasive ingredients, should be avoided.
For removal of particularly stubborn stains, industrial cleaners suitable for plastic surfaces can be used. Before use we would recommend testing in a small, hidden area.
Disposal
We recommend material recycling or energy recovery.